15 Best Destinations in Karangasem Bali
This is the recommendation for the latest tourist attractions in Karangasem, the Island of the Gods, and Bali. Popular Nature Tourism Destinations, Current & Most Hits Visited While on Vacation. Bali is certainly very familiar to you. Bali is a world heritage. Unspoilt nature, charming beaches, and sustainable culture until now are summed up in one word, namely "amazing". Of course, not only local tourists are captivated by its beauty, but foreign tourists also fall in love with Bali. However, talking about Bali is not just one part of the region. However, Bali is also divided into several regencies which have their own characteristics. One of the places that can be a destination is Karangasem Regency. Karangasem is very interesting to visit because it has natural beauty and unified cultural charm. If you take a trip to Karangasem, you can go to various tourist destinations. Starting from natural tourist destinations to cultural-based tourist destinations. All of these tourist destinations have the beauty that deserves to be immortalized in an instagramable photo. The following is a review of tourist attractions in Karangasem Bali that can provide a memorable vacation.
1. Gemitir garden
Gemitir Flower Park is a very suitable destination for those of you who like to be photographed. This flower garden has a very attractive appearance with a yellow expanse of compact calendula flowers blooming. The flowers are planted and arranged with precision so that it looks like a very neat row of flowers. Very suitable as a photo background.
If you want to visit Gemitir Flower Park, you must consider the time of your visit to Karangasem. Due to calendula flowers that can only bloom in summer, Gemitir Flower Garden is only open when summer arrives. You can choose the time of visit between June to August.
2. Candidasa Temple
As we all know that a temple is a place of worship for Hindus. However, you are still allowed to look around the temple on the condition that you must prioritize good manners. You are not allowed to think, behave, and say things that are not good because Candidasa Temple is a holy place for Hindus.
Candi Candidasa is located in a residential area and is directly facing the sea. Therefore, if you visit Candidasa Temple, you will see firsthand the stunning beauty of the sea. So, this destination is very interesting to visit.
3. Kasna Flower Field
Padang Bunga Kasna can be another option to visit besides Gumitir Flower Park. If the Gumitir Flower Garden is overgrown with calendula flowers, then the Kasna Flower Field is overgrown with Kasna flowers which are no less beautiful. Actually, the Kasna flower that grows in the Kasna Flower Field is a wildflower that grows, but the number is very large.
Thus, the Kasna flowers that grow in groups look very beautiful with dazzling white colour. You will get excellent photos of the Kasna flower beds. Please note that Kasna flowers are included in the elements of offerings that are usually used by Hindus.
4. Rumah Bambu Pengalon
If you visit Candidasa Temple, also take the time to visit the Pengalon Bamboo House which is close to Candidasa Temple. The Pengalon Bamboo House is a house made entirely of bamboo.
Investigating a calibration, it turns out that this building is a project that is still halfway through. However, this building actually has its own charm because the architectural design of this bamboo house is very good. In addition, the Pengalon Bamboo House faces a blue lake. Suitable to be the next photo spot.
5. Taman Ujung Sukasada
Well-known as a favourite place to carry out pre-wedding photoshoots, Taman Ujung Sukasada can also be a choice of destination to visit. Taman Ujung Sukasada is a water park tourist destination with very beautiful architecture.
In this park, there are tall buildings that you can go to to see the entire Ujung Sukasada Park which is so extraordinary. Your eyes will be spoiled by the beauty of the pool and the very artistic design of the building. In addition, the natural beauty around Ujung Sukasada Park is also the main attraction for anyone who visits this park.
6. Mount Agung
Mount Agung is one of the volcanic volcanoes which is still active. Mount Agung is actually a very sacred place by Hindus in Bali. Mount Agung is believed to be a place of worship for Lord Shiva. However, nowadays it is rare for a ceremony to be held at Mount Agung, but only at certain times.
Of course, you can visit Mount Agung as a tourist destination in Karangasem. However, you must still adhere to the protocol that has been set by the maintainer. Mount Agung is suitable for those of you who like hiking activities.
7. Yeh Labuh Waterfall
The next destination is Yeh Labuh Waterfall. Yeh Labuh Waterfall is a waterfall tourist destination that is still not widely known by people. If you like adventure, then this Yeh Labuh Waterfall destination is highly recommended to go to. Even though the terrain is quite difficult, you don't need to worry because all of that will be paid off by the beauty of this waterfall. The natural atmosphere around Yeh Labuh Waterfall is also still very natural because it has not been touched by the hands of investors. Therefore, if you visit this waterfall, you will feel peace in nature that is still very beautiful.
8. Jambul Hills
If you want to enjoy the beauty of the Karangasem landscape from a height, then you must visit Bukit Jambul. As far as the eye can see, you will be treated to a stretch of terraced rice fields, dense forests, and exotic stretches of sea. The best time to enjoy this beauty is in the morning.
In addition, in Bukit Jambul there is also a temple that is very well maintained. You also enjoy a variety of culinary available in restaurants around Bukit Jambul. An incomparable pleasure if you enjoy a charming landscape with delicious Balinese cuisine that makes you addicted.
9. Lempunyang Temple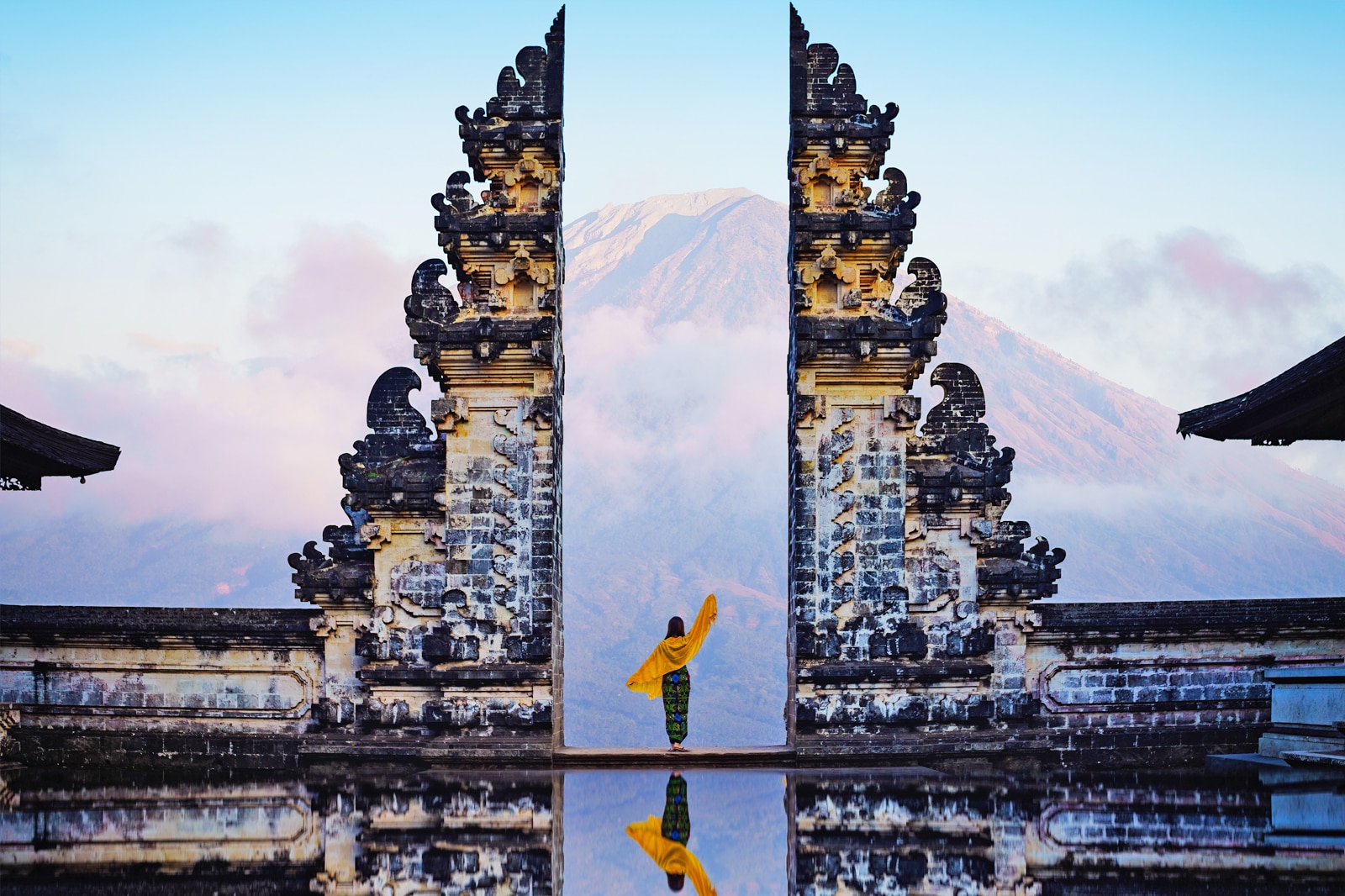 Lempuyang Luhur Temple is a popular place in Karangasem. Lempuyang Luhur Temple is also a place of worship for Hindus. Therefore, anyone who comes to this place must guard against misbehaving.
Lempuyang Luhur Temple has very beautiful architecture. This building which is dominated by rocks looks very majestic and exotic. Moreover, you can also make Lempuyang Luhur Temple an amazing photo spot. The experience of Karangasem will certainly be an unforgettable experience.
10. Asah Bugbug Hills
Furthermore, Bukit Asah Bugbug also offers an unforgettable vacation experience. At Asah Bugbug Hill, you can see the beautiful expanse of the sea. If you want to enjoy the sunset at a height, you can also visit Asah Bugbug Hill.
So far, Bukit Asah Bugbug is still not very often visited by tourists. Even though you can get shots with a beautiful background of the beauty of the sea.
11. Batu Angsel Waterfall
Batu Angsel Waterfall can be another choice besides Yeh Labuh Waterfall. Waterfalls always offer hidden natural beauty that is not unexpected. The beauty of Batu Angsel Waterfall is not as charming because of the position of the waterfall which is squeezed by two rock cliffs.
Indeed, the terrain is not like other tourist destinations because to get to this hidden paradise, you have to take ordinary terrain. However, believe me, all the fatigue will be paid off with the indescribable natural beauty.
12. Tirta Gangga
The next destination is a tourist destination that is part of the royal heritage, namely Tirta Gangga. Tirta Gangga is a destination in the form of a water park in collaboration with a very beautiful architectural beauty. The atmosphere at Tirta Gangga is not only beautiful but also very calming so it is suitable to cool the heart and mind.
At Tirta Gangga, you can see the beauty of Mount Agung which is no less interesting. Therefore, every corner in this place is very appropriate to be used as a photo spot. Your experience travelling to Bali will be even more memorable by visiting the most popular destinations in Karangasem.
13. Amed Beach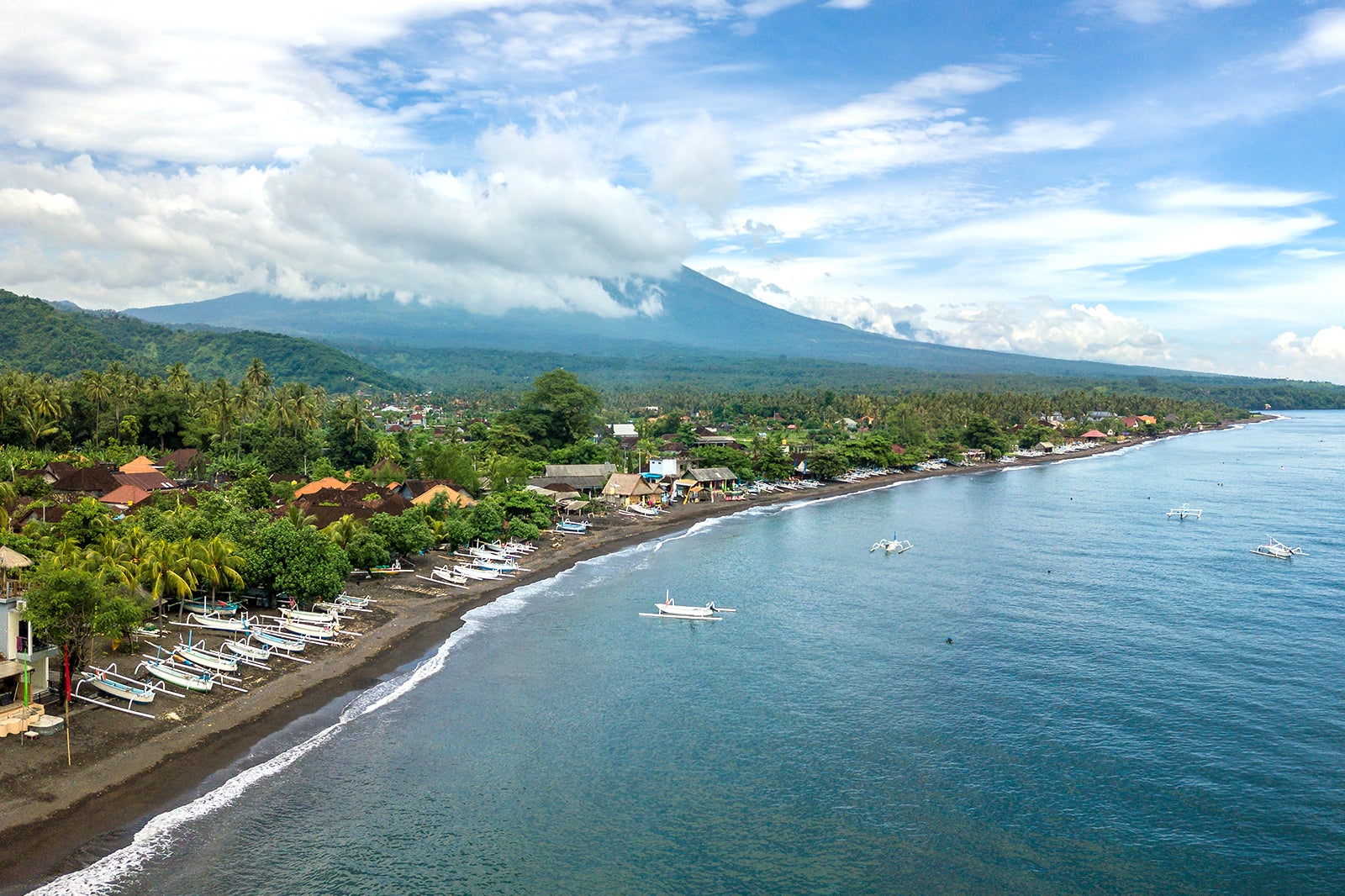 Bali is famous for its beautiful beaches. One of the amazing is Amed Beach in Karangasem. If you have a hobby of snorkelling or diving, then Amed Beach is a must-visit. The beauty of marine life and charming coral reefs will amaze you on this beach.
For those of you who can't snorkel or dive, you can still enjoy the beauty of Amed Beach. In the morning, Amed Beach has an extraordinary sunrise beauty. Amed Beach is a very suitable to be a destination for relaxing.
14. Besakih Temple
The next destination is Besakih Temple. In this temple, you can walk around enjoying the beauty of its architecture and can take photos at the best spots you will find. As with Lempuyang Luhur Temple, visiting Besakih Temple must also pay close attention to how etiquette must be upheld.
Besakih Temple has a distinctive architecture. Historically, Besakih Temple has existed since the 8th century. Besakih Temple has three temples. These three temples are specially dedicated to Lord Brahma, Lord Vishnu, and Lord Shiva. In addition, the construction of Besakih Temple is also guided by the cardinal directions. It symbolizes the balance of nature.
15. Bias Tugel Beach
The last tourist destination that you must visit in Karangasem is Bias Tugel Beach. Bias Tugel Beach is also included in a destination that is still rare for visitors. This destination is located in a hidden location, so many tourists do not know its existence.
You can dive in the blue sea of Bias Tugel Beach. However, keep in mind that this beach is still not popular. Therefore, you must bring snorkelling equipment